The Middle Island Workshop
---
The Middle Island workshop (far left) took seven years to build—actually seven summers—starting in 1989. It was intended both as a workshop and winter storage for boats so it had to have water access--convenient water access.

I picked the only possible site—fairly level, eight feet above high water springs and far enough from the house and barn so in the event of a fire we had a good chance to save one of the buildings. We had a 26-foot fishing boat, Sadie, at the time so the building had to be at least 28 feet long and no more than 16 feet wide-- the longest timber available from the local sawmill.

---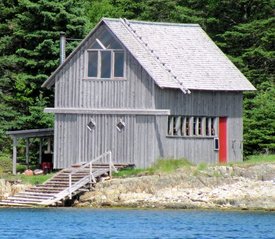 ​There were no building restrictions at that time--you could build anything, anywhere, so although I did get a building permit we never had any oversight or inspections.


I engaged a local man, Harry Hirtle, to build us a slip. We cut local spruce trees, peeled the logs and used them for both the stringers and 'spiles'—the cross-pieces. I began digging the foundation holes but soon found I could only go a foot or two before striking the 'cliff' (bedrock). We filled these shallow excavations with loose rocks 'boated over' from a derelict breakwater on the other side of the island.
---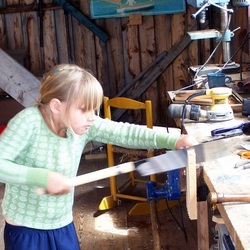 Our local sawyer, Jim Sunderland, had the heavy timbers, joists, rafters and 6 by 6 posts, brought out to the island lashed across two double dories. The dories grounded out in the shallow water of the cove so it was a wet job getting them ashore.

Since the only power tool we had available was a chainsaw (not made for precision woodworking) I cut the bevels and scarf joints in the carrying beams by hand using a Japanese timber saw.

I had designed the building on a four-foot module so the decking—upper and lower floors and roof—could all be cut in 8, 12 or 16 foot lengths. The tongue and groove decking was barely air-dry when delivered so we laid it loose on the joists, pulled it up with clamps and then nailed it the following year. The building was finished a few days before Alison and Eric's wedding (August, 1996) and has been much used, winter and summer, ever since.

---
The double sliding doors open directly onto the water with a 16-foot bench on the south side. Clerestory windows on the north provide good lighting.
The largest boat built in the workshop was the sixteen-foot
Silver Thread
(right)
.
Plans for this classic boat are linked on this page.
---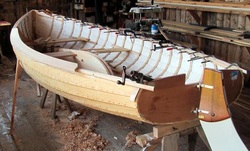 Present projects include an
International 14
, (left & below) a replica of the 1936 classic, Uffa Fox's
Alarm.
This was the first planing hull in the I-14 class and won many trophies.
Complete building plans, based on an original boat in our possession, available
here
.
---